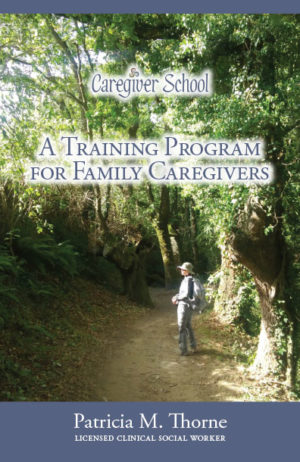 Help for Caregiver Journey
Becoming a family caregiver can be an overwhelming responsibility and finding information and answers can be a challenge. Sojourner for Caregivers is here to help, offering both online education and personalized coaching services for what you need most … help for your journey.
Caregiver Coach
Providing personalized assistance, Pat offers individual coaching sessions tailored for your unique caregiving journey. Working together she'll give you the advice, support and answers you need so you can provide the best care for your loved one. Pat now offers caregiver coaching online! Learn in the safety of your home and don't risk bringing sickness to the loved one you're caring for. Learn more.
Caregivers School
Caregivers School is a nine-part audio training program that covers a variety of topics designed to help you provide the best care for your loved one. Each part of the program is broken down into 2-3 brief audio lessons, most about 20 minutes long. So you can listen to just one lesson or listen to them all at once, from anywhere and at any time. Be sure to print the course outline and worksheets that accompany each lesson.
Listen now
Go to our Student Page to listen to all 25 lessons that comprise the nine-part program.
Listen later
Subscribe to our podcast to access the lessons at your convenience.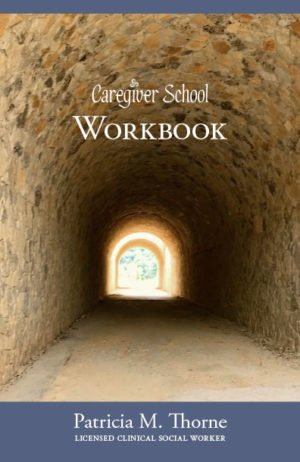 Buy workbook
With the workbook you will get a lot more out of the lessons. You can download the pdf through our bookstore, or you can purchase a printed version through amazon.com.
Buy print book or eBooks
You can also buy our print books or ebooks through amazon.com. These will give you the education, tools, and resources you need for the challenging role of caregiver.
Sojourner Counseling
Caregivers School operates under the umbrella of Sojourner Counseling, Pat Thorne's private practice. As a Licensed Clinical Social Worker and therapist, Pat helps those struggling with anxiety, depression, anger, grief or those going through a difficult life transition. Visit Sojourner Counseling here.
---
Schedule a free 15-minute phone session to learn more
Family Caregiver Resources
Sign up for the Sojourner Newsletter for more information and resources